Z6_99L6HG80O88BC0Q8RRAE3T10D5
Z7_99L6HG80O8RRC0QO2J62QG3067
Z7_99L6HG80OO4Q50Q6MDLUAP10P7
Z7_99L6HG80O8RRC0QO2J62QG30U5

Introducing the PURELL SOLUTION™
Innovation in Dispensing & Formulation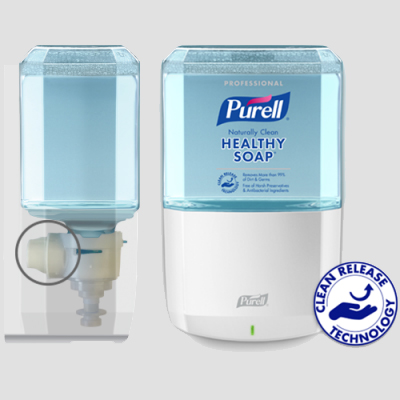 PURELL® ES8 Dispensing System with Breakthrough Energy-on-the-Refill Technology
Say goodbye to the two biggest service issues — dead batteries and empty refills. Each new AT-A-GLANCE™ refill comes with a coin cell battery, so ES8 is always ready when you need it.
PURELL® Brand HEALTHY SOAP® with CLEAN RELEASE™ Technology
PURELL® Brand HEALTHY SOAP® with CLEAN RELEASE™ Technology reaches into skin's cracks and crevices to remove more dirt and germs than regular soap. Remarkably mild, free of harsh preservatives and antibacterial ingredients. Good for you and the environment.
Hand Sanitizers
PURELL® Advanced Hand Sanitizer is America's #1 hand sanitizer, and kills 99.99% of most common germs that can make you sick. We offer the germ-killing power of PURELL products in several different formats and dispensing options, so you can promote well-being throughout your facility – and your home.
PURELL products are available in luxurious foam, refreshing gel, convenient spray and durable wipes. That means no matter where you are, you're never far from hand hygiene.
PURELL® Surface Disinfectant and Sanitizer Sprays

Heavy Duty Hand Cleaners
Not all soils are the same. So when it comes to GOJO® brand hand cleaners, we make products that are tailored to fit your needs, whether you work on a construction site, in a factory, or in an auto shop. Our formulations are designed to be effective at removing dirt and grime, and be easy on skin at the same time.
From scrubbing formulations with pumice to clean deep-down soils to smooth crème products that can be used without water – even scrubbing towels – you can count on GOJO products to keep your hands working.